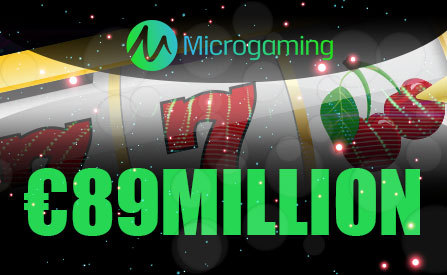 Microgaming's progressive network customers have had a great year so far with over a million wins in the first half of 2019. To be more specific, the figure is €89,879,343 spread out over 1,150,559 lucky jackpot wins.
Further distribution of winnings shows that 8 winners took home some €43 million, while 380 other players were awarded €10,000 or more.
Creating Multimillionaires Overnight:
The progressive jackpot network has not only made quite a few payouts, but they have created literal multimillionaires in the process. On March 5, someone…
… drew the €11,546,388.15 jackpot, while just a day later a lucky winner won the €2,201,120.31 jackpot.
This trend continued well into May when a €5,430,849.65 jackpot fell on May 3. Exactly 20 days later, someone was lucky enough to net the €5,673,937.78 payout.
The most recent online casino jackpot was paid out on June 17 and was worth some €3,034,204.84. That totals to four massive jackpots and four new multimillionaires in a three-month period.
John Coleman, CEO at Microgaming, has offered his insights on this story: "2019 is gearing up to be a great year for Microgaming's progressive jackpot network, with total lifetime payouts fast approaching the €1.1 billion mark. Congratulations to all winning players on the network, which remains the largest in the industry and features the record-breaking Mega Moolah progressive slot. We look forward to hosting more life-changing wins in the second half of the year."
Despite all of the massive wins, none of these jackpots can cove even close to the one that was drawn back in 2018. It was September 28…
… when someone pulled an €18,915,872.82 jackpot at the Grand Mondial Casino. The slot game in question was Mega Moolah.
This jackpot still represents one of the highest amounts ever paid out. So much so that it had broken the previous record which was made official by the Guinness World Records.
Fans and loyal customers of this network based in the United Kingdom's self-governing territory of Isle of Man, obviously have a lot to look forward to. The year is just halfway over…
…meaning that we could see a few more millionaires by the time winter swings around.
More on the Supplier…
Microgaming is one of the oldest names in the iGaming industry. Founded in the early '90s, this company has created the world's first online casino in 1994.
Just ten years later, they went on to create the first mobile casino software. Since then, the company and the team driving it grew significantly.
Today, they are also one of the largest organizations operating in the iGaming industry. Their games are…
… known for their high-end graphics, smooth gameplay and most importantly, good entertainment value.
Being such a massive entity, the company offers much more than just games. They have acquired numerous businesses over time, thus expanding the scope of their capabilities.
So far, this veteran brand has won a large number of different awards…
… and recognition for their work in the industry. Looked up at by many smaller teams, it has secured its place in iGaming history.
Source: "Microgaming's progressive jackpot network pays out over €89m in the first half of 2019" https://www.microgaming.co.uk/News/Microgamings-progressive-jackpot-network-pays-out-over-89m-euro. Microgaming. July 11, 2019.
Author: Dusan Trifunovic