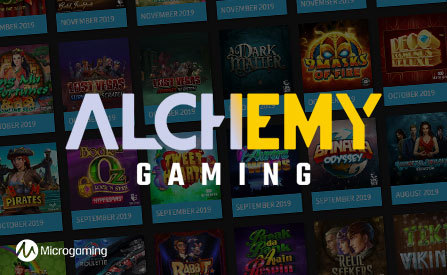 Microgaming has added a new partner to its list of exclusive 3rd party providers. The latest expansion to this company's portfolio comes in the formof Alchemy Gaming.
This studio is promising to bring a number of innovative technologies. With joined forces, the two companies are looking forward to a productive long-term relationship.
The New Kid on the Block:
The addition of Alchemy to Microgaming's portfolio of affiliated software providers has added a significant boost to this giant's slot game offer. Alchemy is bringing over a…
…highly motivated team of professionals that are looking to bring the industry to a whole new level of excellence and quality. Their games are all about innovative and engaging mathematics-based core mechanics.
This fairly young studio has been focusing on designing new features, slot game options and overall diverse slots even before Microgaming had set their sights on them. With the help of Microgaming's massive assets, it is reasonable to assume that…
…it will thrive and reach new levels of quality.
This studio has also announced the title of their very first game. Called Wheel of Wishes, this slot will go live across Microgaming's network of affiliated online casino operators in the Q1 of 2020.
Players interested in experiencing this slot can look forward to progressive jackpot features, a WowPot and an enchanting Arabia inspired theme.
Official Comments:
John Coleman, CEO at Microgaming, offered a comment regarding the new deal: "Marking the tenth addition to our growing network of independent game studios, Alchemy Gaming is set to add a quirky edge to our portfolio. The new studio adopts a scientific approach to game development, and the team is busy creating some brilliant features and visually impactful artwork. We welcome their unique personality and relentless drive to engineer thrilling gameplay experiences."
Rory Harpur, Head of Alchemy Gaming, has also shared his insight regarding the new partnership: "With a wealth of collective experience in the industry, we understand slots and players, and what drives excitement and anticipation in games. We love how great games balance mechanics and art to perfection. Our mission is to focus on creating a polished audiovisual experience that fully supports our game features. We are all looking forward to launching our debut game Wheel of Wishes with Microgaming."
About the Leading Developer:
Microgaming is one of the oldest and most respected software providers in the industry. Tracing its roots all the way to the early '90s, this provider has since done a lot…
…to improve the industry in rather significant ways. Namely, this company is credited with designing and releasing the world's very first online casino software in 1994. Just 10 years later, they have made massive ripples in the industry by designing the…
…world's first mobile casino software. Right now, it employs a massive team of talented professionals all over the world. The company is also running one of the largest partnership programs in the industry.
As a part of said program, third party providers design and produce quality slot games for this giant.
Source: "Creating gold standard gaming experiences: Microgaming presents Alchemy Gaming" https://www.microgaming.co.uk/News/Microgaming-presents-Alchemy-Gaming. Microgaming. November 26, 2019.
Author: Dusan Trifunovic