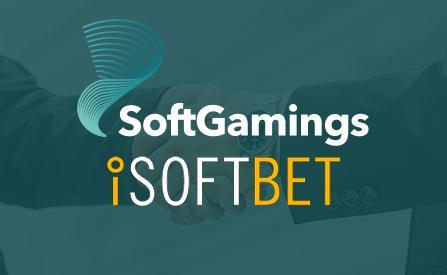 Even though it's been only a few days since 2019 has started, several major dealerships have been made and the recent one is between two omnipotent corporations, London-based iSoftBet and SoftGamings.
What's The Plan?
Namely, iSoftBet primarily wanted to make their games accessible to various operators and via this partnership they will be able to achieve that goal.
On the other hand, B2B solutions provider, SoftGamings, offers a huge selection of products to online casino operators and among them you can find a plethora of table games, as well as a great portfolio of some of the most famous video slots!
After this agreement, they will now be able to proffer more than 150 original and also branded video games from iSoftBet.
Huge Business Expansion:
This mobile and online casino content provider is equipped with high-quality slot machines, table and video poker titles.
Furthermore, all of them have also reached prosperous regulated markets, such as Denmark, the United Kingdom, Italy, Romania, Spain and Portugal.
They frequently release new games and some of their biggest titles include reel slots like: Pearl of the Orient, Hot Spin as well as Platoon, 24 and Paranormal Activity.
The Reasons They Chose Each Other:
When two powerhouse companies decide to partner, it's because they have strong reasons for that.
Furthermore, the statements you're about to read precisely prove our point. Michael Probert, Chief Commercial Officer at iSoftBet said:
"iSoftBet is focused on designing and developing innovative and exciting games that are fully compliant with regulations in a growing number of markets around the world.
This partnership with SoftGamings allows us to offer our games to even more operators and their players, and to further establish ourselves as one of the most popular and successful developers in the market."
Moreover, Svetlana Gasel, Head of Partnerships at SoftGamings agreed and added:
"We have built a formidable reputation amongst online casino operators for providing them with access to the hottest games in the market, and our partnership with iSoftBet ensures we keep doing that."
Besides the already mentioned places, their full suite of games can also be found through their state-of-the-art Game Aggregation Platform (widely known as GAP) which comes with more than 2,500 games from approximately fifty providers, including Scientific Games, Ainsworth and Habanero.
New Addition To Their Community:
In order to take their business to the next level, iSoftBet placed former Playetech and IGT video slots whizz as their new Head of Games.
His experience will be a great contribution to their corporation. Mr. Claxton has been in this industry for more than seventeen years and thanks to him some of the top-notch real-money and casual gaming titles have been made for the most famous brands in the world.
Source: "iSoftBet Expands Reach With SoftGamings Partnership" https://europeangaming.eu/portal/press-releases/2019/01/09/35915/isoftbet-expands-reach-with-softgamings-partnership/. European Gaming. January 9, 2019.
"iSoftBet Hires New Head Games Senior Recruitment Drive Accelerates" https://www.isoftbet.com/news/isoftbet-hires-new-head-games-senior-recruitment-drive-accelerates/. iSoftBet. January 9, 2019.
Comment: Another great news for the gaming industry!