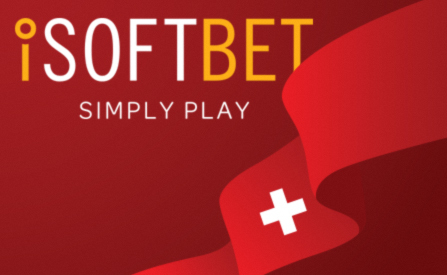 iSoftBet, one ofthe most prolific software suppliers on the market, has gained rare access to the newly regulated Swiss markets. This brand is looking to bring many of its titles to Swiss online casino operators.
This aggressive market acquisition is nothing new for the brand. They have been stalking newly regulated markets in the past, often establishing dominance right from the start.
An Unprecedented Access:
This giant of the online slot world has been among the few chosen software providers to enter the Switzerland's market since July 1 regulations went into effect.
The highly popular studio will bring most of its top-performing titles, such as Hot Spin, Book of Immortals and others, making them available to Swiss online casino operators.
This type of uncontested access gives them a unique opportunity to secure the most lucrative partnerships ahead of the competition. Once the markets become fully open for providers, the developer will be in a position of power.
Establishing Footholds in New Markets:
This studio has had a number of successful foothold campaigns in newly regulated markets around Europe.
Their previous efforts include the Baltic states, the United Kingdom, Spain…
… Portugal, Romania, and others. This arguably aggressive strategy has proven to be effective.
Michael Probert, Chief Commercial Officer at iSoftBet, added: "We've had a phenomenal 12 months with a host of leading brands working with us in newly regulated markets due to the quality and breadth of our proprietary and third-party content, and the speed and efficiency with which we help operators launch in new territories. We're very excited with the potential of the Swiss market and what the future holds as iSoftBet continues to go from strength-to-strength."
In a way, he is hinting at the new direction the company might take. Future markets will be won or lost depending…
… on how fast the providers can gain access. This particular one seems to be specializing in aggressive client acquisition within the opening days of newly regulated online spaces.
Mark Halstead, Compliance Manager at the same company has also commented on the new enterprise: "This is another landmark moment for the business showing how ahead of the curve we are in entering the latest regulated and regulating markets with the biggest brands. We're looking forward to launching and showcasing our content in Switzerland."
Who Is iSoftBet?
The content developer serves as a leading casino software provider that operates in various markets. They have an established presence online as well as in the mobile arena…
…where their titles are going against other authorities in the industry.
Aside from creating fun and engaging online casino content, they also offer a bespoke option to their clients. Their current business policy is slowly shifting them towards new markets where they are looking to establish early dominance over their competition.
The company runs a dedicated and highly skilled team that is eager to take on new challenges and tackle innovative technologies. It is officially licensed in the UK and Alderney.
Source: "iSoftBet makes Swiss market debut" https://calvinayre.com/2019/06/28/press-releases/isoftbet-makes-swiss-market-debut/. Calvin Ayre. June 28, 2019.
Comment: If they keep this up, they'll definitely start stepping on some pretty big toes!
Author: Dusan Trifunovic