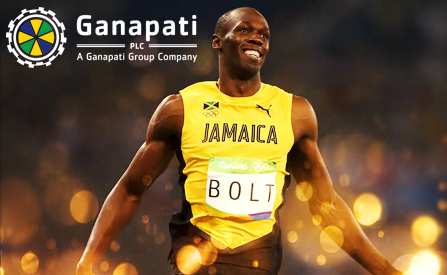 Ganapati PLC, has joined forces with Usain Bolt for a tribute slot game. The new game will feature the fastest man in the world and be the very…
… first official slot with Bolt's name on it. The game is expected to hit the shelves this summer.
First Pacquiao, Now Bolt:
Ganapati PLC, an international software provider with offices in the United States, the United Kingdom and elsewhere, has teamed up with Bolt to create a tribute slot game. This isn't the first time…
…the company joined forces with a sports star to create a custom slot. They already worked with Manny Pacquiao last year. The game that…
…came as a result of this cooperation was regarded as a complete success. Ganapati is looking to achieve the same level of success with Bolt's game. Both the former sprinter and Ganapati are working closely in order to create a game that fits…
…this world-renowned athlete's requirements while also offering an experience Ganapati is generally known for.
Preparing for ICE:
Bolt has also announced that he will be joining the brand at the upcoming ICE London – the iGaming industry's most important event of the year.
Bolt commented on the upcoming game release and the collaboration with Ganapati: "2020 not only welcomes the biggest sporting competition in the world, but an exciting new collaboration between myself and iGaming developer, Ganapati. I am proud to be teaming up with Ganapati to create my first ever official online slot game – Ganapati's goal to produce innovative and creative content fits perfectly with my brand, making this partnership a natural one for me. Ganapati and I have been working on this together for some time now, and I look forward to sharing the final product with you all."
Juliet Adelstein, Ganapati PLC's COO, has also shared a comment regarding the new project: "This partnership between Ganapati and Usain Bolt is hugely exciting and represents just how big we have grown in such a short space of time. Usain has worked closely with us to create this special game and neither of us can wait to release the official Usain Bolt slot game later this year."
Ganapati is looking to make the new game available to online casino operators by the end of the summer of 2020.
About the Company:
Ganapati PLC is a company within the Ganapati Group, that is responsible for designing and producing cinematic slot games and other iGaming content for the industry. With offices all around the world including North America, Europe, and Asia, it…
…employs an international team comprised of professionals who are looking to create better, more entertaining games. Being a part of a massive entity, this provider has…
…built a large distribution network that includes a number of top tier operators in various highly competitive markets.
Source: "GANAPATI TEAMS UP WITH USAIN BOLT" https://ganapati.com/en/2020/01/16/ganapati-teams-up-with-usain-bolt/. Ganapati. January 15, 2020.
Author: Dusan Trifunovic