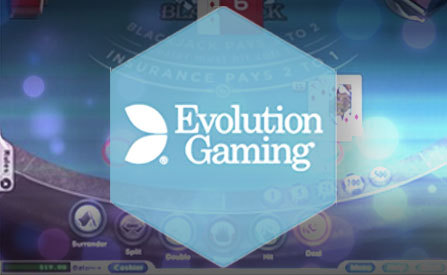 Evolution Gaming's online RNG games have been expanded with two new titles. One is the First-Person Lightning Roulette while the other…
… is First Person Dream Catcher. Both of these additions to the RNG range reinforce the supplier's reputation as a leader in the area of live casino solutions.
This series of games have received great critiques for their attention to detail, impressive graphics, and overall polished appearance. The two new additions…
… to RNG games lineup are expected to achieve the same level of success.
Changing the Playing Field:
Being at the cutting-edge of technology and leading the industry forward is something Evolution is known for along with their top-tier slot games. Their RNG titles are pushing the limits of…
… what is possible and offer the closest thing to playing a real casino. With detailed 3D renderings that are bordering on cinematic, these games are a massive step ahead of any standard, 2D solution on the market.
Live versions of their Lightning Roulette and Dreamcatcher have both won a number of awards. Former was…
… recognized three times with the Game of the Year 2018 award while the latter won the Digital Product of the Year award at G2E Las Vegas 2017.
These new First Person RNG versions are unique because they come with the 'Go Live' feature. This button allows the player to go from the virtual roulette to a live one in one rather smooth transition. It's not yet known when these games will be available to Evolution's new partners.
Todd Haushalter, Chief Product Officer at Evolution, offered his comment on the two new games: "Our First Person Gaming range continues to leverage the latest technology to help our licensees build player loyalty across their entire online casino games offering. All Evolution First Person titles are great games in their own right with superior animation and gameplay. But with the 'Go Live' button, these games go far beyond conventional RNG games. That button is a way of very easily taking players into the hugely entertaining world of Evolution Live Casino, a world that offers so much more than classic Live Casino table games."
Both titles will be available at select online casinos.
Perfecting The Live Experience:
This software provider is one of the few top tier names in the industry that is truly perfecting the live experience. Their Go Live feature raised quite a few eyebrows. Many wondered whether…
… transitioning from a virtual to live environment would a too big of a bite for Evolution? As it turns out, they have managed to meet and even exceed most expectations.
The success of these titles is attributed to the high-quality graphics all games feature in this lineup, but also the seamless UI developed specifically for this purpose by Evolution.
As far as live online casinos go, these might just be the most…
… technologically advanced options on the market at this point in time. It is fair to say that we will see a few more similar titles from this studio in the near future as these games mature along with the technology used.
Source: "First Person Lightning Roulette and Dream Catcher join Evolution's RNG games range" https://europeangaming.eu/portal/press-releases/2019/07/11/50244/first-person-lightning-roulette-and-dream-catcher-join-evolutions-rng-games-range/. July 11, 2019.
Comment: Soon there will come a day when we won't be able to tell real from CGI…
Author: Dusan Trifunovic