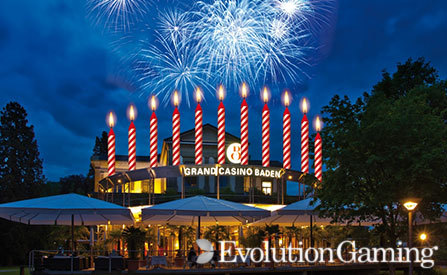 The race to dominate the recently reorganized Swiss online gambling space has officially begun! One of the more interesting developments on this front comes from Evolution Gaming.
Being one of the most prominent suppliers of live casino games…
… Evolution was chosen by Grand Casino Baden for a strategic partnership.
This is promising to be a lucrative deal for both sides. Grand Casino Baden is a land-based operation that is looking to get online and grab a sizable chunk of the newly open Swiss market. Evolution Gaming is actually just a part of the venue's overall plan of action.
They have already acquired an online brand JackPots.ch, which they are using to establish the base infrastructure for this endeavor.
Entering Swiss Gambling Space with an Arsenal of Games:
As a part of the new agreement, Evolution has agreed to open their entire portfolio to Swiss giant from Baden. It is estimated that the first services to go live on the new platform will be Evolution's live dealer baccarat, roulette and blackjack.
In addition to that, they are set to implement some of their show style games. Namely the Lightning Roulette – an award-winning game from this provider.
One of the first voices to speak up on this deal is James Stern – Chief Business Development Officer for America and Land-Based division at Evolution. Stern expressed his joy over how things are going. He mentions that it's an honor to be selected…
… by such a well-established land-based casino and offers optimism regarding their future endeavors.
On the other end of the table, Marcel Tobler, Swiss giant's CFO, spoke highly of their new partner, stating that selecting them wasn't a difficult decision to make at all.
"harnessing Evolution's Live Casino will undoubtedly help us to consolidate and develop our position as one of Europe's most highly regarded casinos," Tobler added.
Evolution has already proven to be a capable entity in this industry through their enterprises in United States.
Launching New Platforms in Record Time:
New Swiss regulations governing online gambling are coming into effect starting July 1. Baden's largest gambling institution has been preparing for this moment for a while now. They have launched JackPot.ch under a free-to-play flag…
… thus managing to amass a solid user base.
To this date, it is estimated that some 15,000 players are registered with this online casino.
Prior to this, Grand Casino Baden became one of the first four such entities to apply for an online casino license with Swiss regulatory bodies.
Although their license has been approved, it is unknown when they'll get a green light to go live. By most estimates, it won't be until late July at the very least.
This entire move is likely going to help the Sweden-based giant establish a more secure foothold on European markets as a whole. As things stand now, Baden going live online only be the beginning of their digital campaign. At this point, it would be easy to speculate that we'll see…
… much more of their presence in different markets around the world.
Source: "Evolution selected by Grand Casino Baden for new Swiss gambling market" https://news.cision.com/evolution-gaming/r/evolution-selected-by-grand-casino-baden-for-new-swiss-gambling-market,c2849066. Evolution Gaming. June 26, 2019
Comment: This is big news! Baden is massive and if they put their back into it, they can dominate European
Author: Dusan Trifunovic