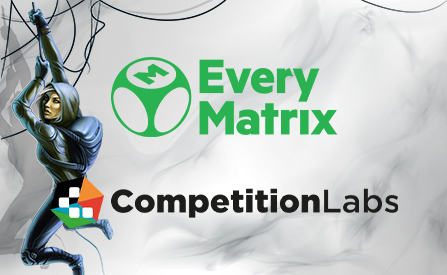 EveryMatrix, a prominent software provider in the iGaming industry, has signed a strategic partnership deal with CompetitionLabs.
The newly signed deal will allow…
…EveryMatrix to offer a more extensive line of gamification tools via its CasinoEngine content platform, thus making it more competitive in key markets.
Improving the Quality of Service
Running one of the largest…
…content aggregation platforms – CasinoEngine, has given EveryMatrix a very real incentive to constantly improve its quality of service. Following the rising industry trends, adding innovative gamification tools is something this company has recognized as a major move towards establishing that quality of service standard. Teaming up with its latest partner will allow them to do exactly that.
CompetitionLabs is a software company specialized in making and implementing…
…various gamification toolsthat improve player engagement, acquisition, and retention. Its latest ally will soon start offering all kinds of tournaments, leader boards, and features such as mission-based achievements to its platform.
Impressive Credentials:
Stian Enger Pettersen, CEO of CasinoEngine, shared his take on the newly signed partnership deal: "We've been thoroughly researching partners in this area and CompetitionsLabs' credentials are impressive. EveryMatrix helps customers to differentiate and innovate their businesses through our solutions, and CompetitionsLabs' gamification platform is an excellent fit for us. Thanks to this integration, our casino clients can now take full advantage of this real-time toolkit to quickly roll out tournaments and missions, and we are confident that players will be excited by the skinnable widgets."
Julian Steinwender, Chief Engagement Officer of CompetitionLabs, was also quoted saying: "EveryMatrix is a great partner to work with and we believe that their commitment to both customers and players alike has been showcased for the past decade. CasinoEngine is a high-performing product and our gamification platform will help them increase their customer engagement even more. We understand that gamification can be daunting, which is where the CompetitionLabs software and consulting services can help out."
With the new tools implemented, patrons of online casinos affiliated with the exclusive platform will now enjoy a much more engaging gaming experience. The addition of these new tools will make the existing slot game content even more immersive.
About:
EveryMatrix is a massive software provider and platform specialist based in Malta. The company offers modular solutions for operators who are looking to reach a new level of service. Its API driven product suite allows for ultimate flexibility and fast implementation. It works with bookmakers, lottery providers as well as online casino operators from all over the world. The team behind this brand understands how the market breathes and is constantly coming up with advanced solutions to the emerging needs of the industry. Additionally, it runs CasinoEngine – one of the most competitive content aggregation platforms in the industry.
Source: "EveryMatrix launches CompetitionLabs' gamification system on CasinoEngine" https://everymatrix.com/everymatrix-launches-competitionlabs-gamification-system-on-casinoengine/. EveryMatrix. June 29, 2020.
Author: Dusan Trifunovic