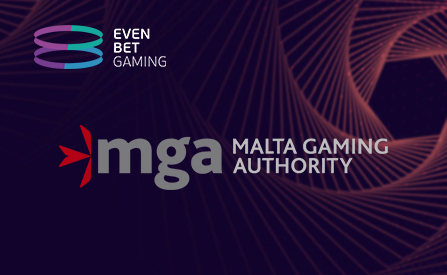 EvenBet Gaming has been authorized an extension to its existing supplier license by the Malta Gaming Authority, which will allow the company to deliver its gaming platform alongside the core poker portfolio.
New License:
The Maltese regulator (MGA) has endorsed the platform provider, which was licensed by the MGA before. Operators with an MGA license will now have access to the company's gaming platform that completes its poker solution and has been confirmed to improve player retention. An innovative feature of EvenBet mini-games is covered by the new production licenses, providing operational capabilities for players to deliver a variety of mini-casino games without having to exit the poker table.
The game options include a lot of games from a wide variety of games from third-party content developers, allowing players to appreciate an amazing casino adventure from the poker room. EvenBet delivers a full gaming platform as a standalone option for the operators who are looking to improve their online casino lobby.
According to the Media:
Dmitry Starostenkov, EvenBet Gaming CEO, said: "Our business has grown exponentially this year following increased demand for our services and launching the EvenBet poker platform with several new clients. Securing this new MGA license extension is an important move that allows licensed operators to gain access to our full product portfolio, including our casino games platform. Our casino and mini-games functionality was built with player retention in mind, providing the ultimate tool that keeps poker players engaged in one place and gives them access to quality and complementary content."
Source: "EvenBet receives MGA casino supply licence". iGamingBusiness. October 12, 2020.
More on the Brand:
EvenBet Gaming was founded in 2004 and is one of the most respected names in the online poker industry. Although they are also known for their huge casinos and sports betting platforms, their poker software makes them as most recognizable worldwide.
Over the years, they have blossomed into one of the most elegant poker solutions in the market. Customers around the world have more than 30 game variations at their disposal. Its software is already available in 25 different countries. It has an impressive user base of roughly 4.6 million active players, and that number continues to grow.
The graphics of the games are truly impressive, which provides an entertaining gaming experience. The games use the latest technology, high-quality graphics and animations. They are available for desktops and mobile platforms because they use the latest HTML5 software.
Source: "EVENBET GAMING IS GRANTED MGA B2B LICENCE". EvenBet Gaming.
Author: Ivan Stefanovic