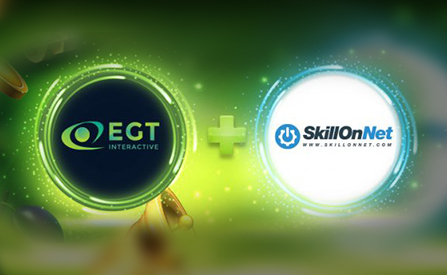 One of the leading software developers, EGT Interactive, has made a deal with SkillOnNet, with a goal to provide their top-quality portfolio of outstanding slots in the international.com market.
Why Did They Choose Them?
The 2005-founded brand stands for a major white casino and full turnkey solution supplier to a plethora of some of the most popular brands in the world.
They are known for delivering superb casino software solutions to the iGaming business industry.
Furthermore, this merger is going to help them initiate their collaboration on the international.com market and they are hoping that in the meantime, through various dealerships, they will be able to reach other prosperous markets, such as those in Portugal, Denmark and Sweden.
Todor Zahariev, Manager of EGT Interactive, gave his thoughts on this collaboration by stating:
"We are extremely excited on the finalisation of this partnership as we are looking forward to providing our premium casino slots to such a prominent name in the industry. For us, this collaboration is not only strengthening of our presence in the international market, it is also about delivering exceptional gaming experience to even greater group of players. We are confident that SkillOnNET's vast customer base will enjoy our +100 titles of leading casino content."
Michael Golembo, from SkillOnNet added:
"Players now expect online casino operators to offer a huge range of games from the best suppliers from around the world. "Here at SkillOnNet, we are constantly adding new providers to our portfolio and are delighted to have partnered with EGT Interactive. "EGT has made a name for itself by combining stunning graphics with innovative gameplay and we believe its titles will be a big hit with our brands and players."
EGT In Rimini:
A few days ago, we talked about what EGT has been up to these days. One thing wee discussed was its appearance at FADJA (Feria Americana De Juegos De Azar) and, at the end of March, they attended a major event in Rimini, called ENADA 2019.
As it turned out, this was a really good strategic move for them, due to the fact that they have gained an opportunity to talk to various companies from this industry and present their top-notch products to them.
Furthermore, everyone who came was thrilled with their exhibition and they were also convinced of the quality that this corporation has to offer to anyone who is interested in their services and products.
Irina Rusimova, Business Development Manager of EGT, proudly talked about this company:
"We are so happy that on such a young market dominated by sports betting we have been able to provoke such a huge interest in online casino games. We started with the first 20 certified games for the Italian market, but soon we'll fulfill the whole portfolio. Our business development team, interactive booth and the variety of business opportunities gives us huge potential for gaining new business too. Since we are already on a numerous EU markets, we'll continue our policy for step-by-step expansion. We expect a couple of new partnerships very soon and our new partners will have the opportunity to enjoy real igaming and business wins with some of the most sustainable online casino games."
Source: "EGT Interactive Content, Goes Live With SkillOnNet" https://europeangaming.eu/portal/press-releases/2019/04/09/42924/egt-interactive-content-goes-live-with-skillonnet/. European Gaming. April 9, 2019.
"EGT Interactive With Highly Beneficial First Participation As An Exhibitor At ENADA In Rimini" https://egt-interactive.com/news/egt-interactive-highly-beneficial-first-participation-exhibitor-enada-rimini/. EGT Interactive. April 9, 2019.
Author: Tatjana Markovic