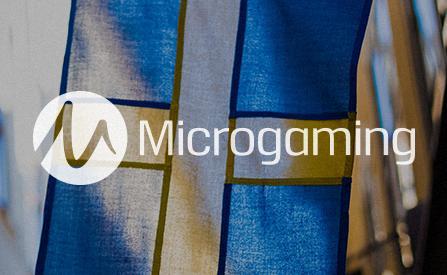 Through the years, Microgaming has proven to be one of the most powerful software developers in the world.
They have put down their roots in various parts of the world and now, their next target is no more no less – Sweden!
Entering The Swedish Market:
They have just gone live in this country by introducing some of their most innovative solutions. Their amusing platform has been awarded multiple times, hence, they decided to share their selection of products precisely with this market.
For the time being, their operators gained access to a refined solution with localized content. This domain will supply operators with Microgaming's refined portfolio where only the best games can be found!
Furthermore, all of them can be played on both computers and mobile phones and that also includes table games and some of the top performing classic and non-classic video slots such as Immortal Romance and Game of Thrones.
The Best For Last:
Besides these sensational video slots, operators will also be able to reach the biggest progressive jackpot network, which has paid out approximately around €973 million to this day!
A group of Microgaming's most famous operators have already acquired their licenses and now they are live with their content in this country. These names include PokerStars, LeoVegas, Bet365, Global Gaming, Unibet, Genesis, Comeone, BWIN and Betsson Group.
Moreover, this year will probably bring more operators to this agglomerate.
The Importance Of Being Part Of The Swedish Market:
Over the years, it has become extremely attractive to various operators and developers from this industry. Andrew Clucas, Chief Operating Officer at Microgaming accentuated their excitement when it comes to this topic and said:
"Sweden is a significant market for Microgaming and we are thrilled to offer our operators in the region a fully integrated solution to ensure compliance in line with regulations set by the Swedish Gaming Authority. This move continues our strategic expansion in key regulated markets, working closely with regulators and supporting operators as they grow their offering with our diverse portfolio of content built with player protection in mind."
More Reasons For Celebration:
Although this event is really huge for this company, luckily, it's not the only one these days. In order to celebrate 15 years of long-lasting dealership with Square Enix for the Lara Croft brand, they have extended their contract to make a third branded online reel slot!
Fans of both this story and its character can now look forward to another adventure from this fearless woman. According to some information, this game will be added to their portfolio pretty soon.
Mr. Clucas once again showed his excitement regarding this collaboration and added:
"We are incredibly excited to announce the renewal of our historic partnership with Square Enix to develop a new Lara Croft online slot game that honours and builds on the brand's massive popularity in the gaming industry, film and beyond. 2019 is our 15th anniversary with the brand and we plan to celebrate the unprecedented milestone with a wave of big reveals on another show-stopping stand at ICE"
Source: "Microgaming content goes live in Sweden" https://europeangaming.eu/portal/press-releases/2019/01/07/35727/microgaming-content-goes-live-in-sweden/. European Gaming. January 8, 2019.
"Microgaming celebrates the industry's longest-running brand partnership with new Lara Croft project"https://www.microgaming.co.uk/News/Microgaming-celebrates-new-Lara-Croft-project. Microgaming. January 7, 2019.
Comment: I don't know how they do it! This company is on a continuous rise obviously!