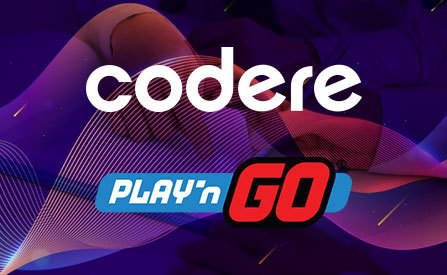 Codere, one of the largest operators to cover the Spanish-speaking iGaming markets, has signed a content deal with Play'n Go. The deal will…
…see these two companies working closely together in order to offer the developer's portfolio of games to players in various markets around the world.
International Coverage:
The developer's deal with Codere is expected to increase this brand's reach in markets where both companies have an already established presence. Being one of the…
…largest operators for the Spanish speaking world, Codere is present in both European and LATAM gambling spaces.
Once the full integration is complete, patrons from these markets will be able to experience some of the supplier's most popular slots. The two companies have agreed to have the new content released in key markets first. This means that Mexico and Colombia among others will be the first to gain access to new releases from this renowned software provider.
Next to follow would be the rest of LATAM markets as well as Codere's brands in Europe.
Salo Leder, Digital Operations Manager at Codere, has shared his insight regarding the new partnership: "We have a very ambitious growth plan, and it is vital to be able to count on high-performance, creative content such as that offered by Play´n GO. In Play´n GO we see a content provider that has invested in being fully certified in each regulated market they enter into, and this facilitates a more fluid and joint expansion into new territories, as they open up. "
Johan Törnqvist, CEO of Play´n GO, has also offered a comment on the news: "Codere is a very innovative company that seeks to grow in both mature and emerging markets, and Latin America is a priority for them. Their ambitions and vision match our own, making them a great partner to build a global relationship with. We are very excited to start this partnership and share our games with all the loyal players that Codere has in the region."
Patrons of Codere online casinos will be able to experience the new content as soon as integration is complete.
About the Brand:
Play'n GO is a company that traces its roots back to '90s and a small group of talented individuals who wanted to bring better gaming to the player all around the world. The company has since grown to become one ofthe leading software providers in the industry. Their current portfolio of games includes a large number of titles, with a proportionally high amount of hits.
Because of their refusal to compromise when it comes to the quality of their games, it has attracted some of the largest and most respected operators who have become their partners.
Aside from highly competitive games, this company also offers a full range of support services to their clients. These include content management among others. On top of that, the team behind this brand is always on a lookout for a new challenge.
Source: Official Press Release "We've Gone Global with Codere" https://www.playngo.com/news/articleid/1341/playn-go-global-with-codere. Play'n GO. September 23, 2019.
Author: Dusan Trifunovic