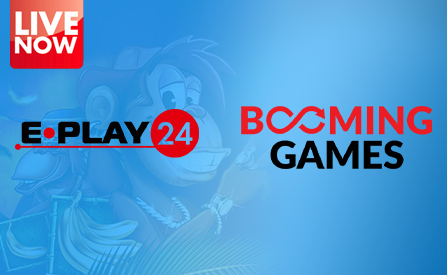 Booming Games (BG), one of the leading software providers in the iGaming industry, has signed a content deal with E-Play24.
Partnering up with Italy's leading…
…operator will give BG a chance to further explore this country's market from a unique perspective.
Making Strategic Partnerships:
Being one of the leading…
…operators in Italy gives E-Play24 an exclusive reach in this country's market. The company operates a large number of commercial brands that are both popular and trusted. Partnering up with such a reliable operator is exactly what BG has set out to do. This studio from Malta will take on the new partnership with its portfolio of more than 60 HTML5 games. These include the heavy hitter slot games such as the Gold Vein, Booming Seven Deluxe, VIP Filthy Riches as well as the latest release to hit the market – Show Master.
One of the points of the deal was defining future releases. Booming follows a steady schedule of 2 new titles per month.
Its latest partner's brands will gain access to…
…any new content as soon as it hits the shelves. The next several games that are expected to start this chain are the Howling Wolves, Tiki Wins, and the highly anticipated Burning Classics.
Antonio Tressanti, CEO of E-Play24, was eager to share his take on the new partnership deal: "The launch of Booming Games, the sixteenth casino brand available in our game platform, gives us the opportunity to keep our players surprised and happy by offering an ever-growing array of games like their new exiting portfolio."
Frederik Niehusen, Chief Commercial Officer at Booming Games, also offered an insight on the partnership: "We are excited to launch our games across the E-Play24 brands to further strengthen our presence in the Italian market" "E-Play24 is the next strong addition to our Italian client portfolio and we are looking forward to working with them."
More on the Developer:
Booming is one of the leading software providers in the iGaming industry. The company is known for creating highly immersive slot games that are capable of taking players on awesome adventures. Its development team understands the importance of good graphics, but also a good math model to drive the slot game. Over time, the company started offering custom made boutique solutions to various partners. As of right now, it works with a number of online casino operators, including some of the top tier brands in the business.
Source: Miller, George. "Booming Games is now live on the E-Play24 brands in Italy". European Gaming. June 23, 2020.
Author: Dusan Trifunovic