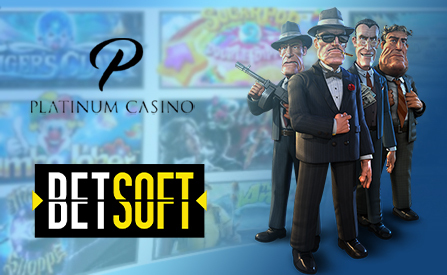 Betsoft has announced the addition of a new partner to its content distribution network.
The company has signed a content deal with Platinum Casino that will…
…give it access to more users the Romanian regulated markets. Such a decision goes in line with the developer's efforts to expand reach in the East.
Establishing a Presence in Emerging Markets:
Betsoft is not the only software provider that is slowly shifting focus more and more to the East. With the traditional regulated markets of North and West Europe slowly imposing stricter regulations, it didn't take long for software providers to look elsewhere for growth. Markets of Eastern and Southern Europe, such as the one in Romania, are gaining in popularity.
The supplier is already licensed to operate in Romania but it's arguable that the deal with Platinum Casino is going to give this brand the representation it needs. On the other hand, the operator has recognized the quality of content the supplier offers.
Adding the newly available content to its offer will allow Platinum to take a more competitive stance in the Romanian regulated market.
The provider's slot games are constantly…
…pushing the limits of core game math models and additional features tech. Because of that, this software provider has become a popular choice for operators worldwide.
Francesca Raniolo, Betsoft's sales executive, commented on the partnership: "Partnering with Platinum Casino is another exciting move for us. Our portfolio is broad enough to ensure that operators in specific regions can prioritize particular themes or features which appeal to their market and ensure player loyalty. We are looking forward to a growing partnership with Platinum Casino."
Daniela Asaftei, head of marketing at Platinum Casino, offered a comment regarding the new deal: "Differentiation within the Romanian market is the key to future success. We see Betsoft as our partner in enabling growth through taking our gaming standards to a new level. We know we can make this a lasting relationship."
About the Developer:
Betsoft is a software provider and slot game specialist that has joined the iGaming industry back in 2006. The company was founded with the intention of becoming a competitive source of iGaming entertainment worldwide. Since then, it has grown rapidly, turning into a popular partner for several top tier operators in the key regulated markets.
One of its main qualities when it comes to their games is the use of advanced math models, 3D graphics, and innovative special features. Because of that, the brand is slowly becoming one of the leading members of the industry. This is partially due to the team that is running this brand. Comprised of dedicated professionals, its employees are constantly looking for ways to give their users a better experience.
Source: "Betsoft Gaming Raises the Stakes with Platinum Casino" https://betsoft.com/media/betsoft-gaming-raises-the-stakes-with-platinum-casino/. Betsoft. May 13, 2020.
Author: Dusan Trifunovic