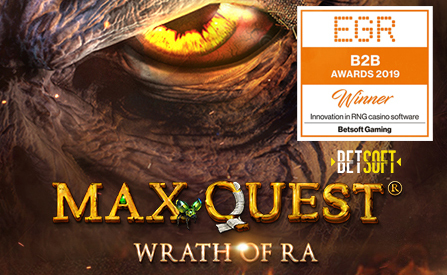 One of the most recognized software studios in the industry, Betsoft, has managed to snag the Innovation in RNG Casino Software award at EGR B2B 2019.
This news comes as no surprise to anyone who kept close tabs on this software studio for the past year. Good performance at EGR B2B 2019 was anticipated…
… if not fully expected!
Even so, the competition this year was quite fierce. Betsoft has managed to achieve such a massive success thanks to their ingenious new system showcased in Max Quest: Wrath of Ra.
Taking Online Slots to a Whole New Level:
What completely knocked the judges off their feet was the innovative approach…
… Betsoft took towards the base game experience. The slot doesn't feature your average reels and symbols.
On the contrary, this game has turned that classic experience into a modern shoot em' up game; the first of its kind in online casinos. Here's how it works.
Instead of classic reels and rows, the game features an isometric grid. When the game starts, different enemies, including many undead creatures, will start walking along said grid. These are the symbols.
A pistol is then used to shoot each enemy. With each shot, the balance is reduced depending on the room option that is chosen at the beginning of the game.
Furthermore, there are special weapons that can be earned or bought…
… as well as a complete leveling system that adds progression to the game. It was the first game of its kind and one that caused the most hype at EGR B2B Awards held in the United Kingdom.
A Clean Win Across the Board:
The introduction of such an innovative solution has caught many judges off guard. This is another win for Betsoft…
… which was also recognized as the Best Online Gambling Game Developer at the Corporate Vision magazine Media Innovator Awards.
Following these events, Annamaria Anastasi, the Marketing Director at Betsoft, stated:
"To say we're thrilled would be a huge understatement. This is an amazing achievement for us and we are extremely happy to see that the industry has recognized the innovation that went into the development of Max Quest. "
She went on to recognize the efforts of their team involved in the design of this online slot, saying that:
"The Betsoft team worked tirelessly for many months to develop and launch Max Quest and they have delivered a game-changing concept to a market that is seeking fresh propositions for its players. We have some of the most talented people here and this award is for them."
This year is far from over for this innovative studio. They are yet to release another two highly anticipated titles, both of which feature more game-changing mechanics and features.
About the Brand:
Betsoft is a software provider that specializes in cinematic casino games and content. It has created a massive network of casino operators and employs a dedicated, highly talented team. With headquarters in Malta, they operate in over 15 regulated markets around the world.
Source: "Betsoft WINS Innovation in RNG Casino Software at EGR B2B Awards 2019" https://betsoft.com/media/betsoft-wins-innovation-rng-casino-software-egr-b2b-awards-2019/. Betsoft. June 26, 2019.
Comment: Wrath of Ra is by far one of the most unique slots I've seen so far. The game is so different from anything out there.
Author: Dusan Trifunovic