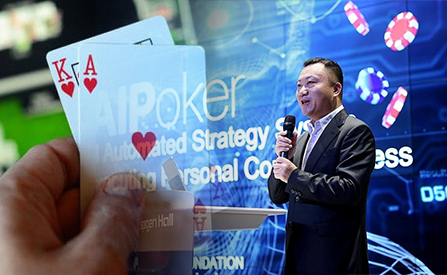 Good ideas and innovations are always welcome, therefore, AlGame Foundation wanted to make some changes in the gambling world by developing their first public project called, AlPoker, released just yesterday. This is going to be the first online platform for poker games that merges blockchain technologies, AI and big data.
More About The Project:
Thorough details about it were unveiled at "99EX Global Launching Conference & Initial Project Launching Introduction."
The 99EX trading platform was released by the "Open and Win-Win Exchange Plan," under the guidance of OKEX and it represents one of the first exchanges.
The team from AlPoker has a plethora of experience in the online poker games industry in Greater China. They have designed the business model of a united operation with online platforms, along with offline huge events, industrial media, TV programs and poker clubs.
Other Significant Projects:
To keep themselves busy, they have also made a different type of event called "CPC China Poker Game Carnival" in China, which is actually one of the biggest and most important events officially certified by this country.
Generally speaking, this occurrence is extremely visited and famous, attracting more than 10,000 players from all across the globe. It has been held five times by now. Last year, during main CPC main event, the bonus surpassed $1.6 million!
Notwithstanding, they have a lot of experience in cutting-edge science and technology in general, this AlPoker is actually their first attempt to overturn classic online poker games. The entire point of it is to create a high-quality system that could be able to implement human-created strategies and simultaneously transform the gameplay of those online poker games we got used to playing
These innovations are going to allow users to practically determine some things, simply enable them to change things they don't want or need.
What's The Point Of This Then?
With this, users will be able to participate in the game by choosing a high-win-rate strategy on the ranking list. In case that player actually wins the game, the one who created it will get to share the money with him.
Dong Wang, a chairman of the AIGame Foundation talked about their current project:
"AIPoker hopes that the players' wisdom and contributions can be converted to value. We understand the poker game players in the world of traditional currencies, and AIPoker can settle the ubiquitous problems faced with existing blockchain game projects, promote the size of existing digital currency users to a higher level, and transform users of traditional currency system to owners of digital currency assets.
AIPoker's determination will be reflected in the business model of the entire project community. We created the GRANDJACKPOT business model. AIPoker does not gain profits from the operating income. Instead, 100% of the revenue will be returned to the community. "
Source: "AlPoker Made Its Debut In South Korea To Overturn The Traditional Business Model For Online Poker Games" https://europeangaming.eu/portal/press-releases/2018/12/05/34160/aipoker-made-its-debut-in-south-korea-to-overturn-the-traditional-business-model-for-online-poker-games/. European Gaming. December 3, 2018.
Comment: I am not a huge poker lover, but I always support creative people, therefore, I love this news!