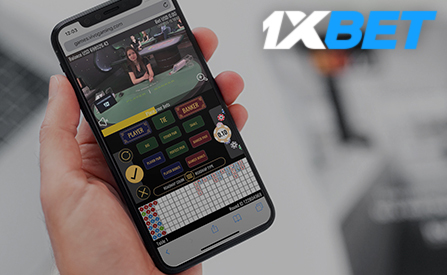 1XBET, one of the largest online operators from Russia, has signed a deal with Vivo Gaming (VG) for their VIP Live Baccarat. The deal brings a whole new experience to 1XBET's clients…
… especially those of the VIP variety who are looking for something more niche.
Vivo is bringing two baccarat tables with complete support and staff. The new deal has already drawn a decent amount of attention…
…especially in the areas where 1XBET has the strongest presence. These areas include most of Eastern Europe with a strong accent on Russia.
Bespoke Solutions from Studio in Varna:
The company's live casino offers are considered to be at the top of the industry. Their main studio in Varna is where all of the magic happens.
These two companies have a long-standing relationship, which gives a background to this new deal. 1XBET's decision to go with Vivo for their custom tailored live baccarat section is greatly benefiting both parties.
For this occasion, the studio in Varna has prepared a new set with highly trained dealers and a complete software suite that offers seamless integration across different platforms.
Vivo is known for hosting high-quality live games that are spotless and near cinematic in nature. The technical side of their online casino service is borderline unparalleled in the industry.
Leo Tinoco, VP of sales for Vivo, has stated: "Our partnership has become a good relationship between both families, and we are proud to expand our mutual goals creating these new products."
On 1XBET's side, Jane Polushkina, an Account Manager at this company, has said: "We are always working to move forward to create the best live dealer products available for a global reach, we believe Vivo Gaming is the best solution to create amazing value to our VIP customers, we are convinced Vivo Gaming dedicated baccarat tables give our players a new boost offering them incredible casino experience and unique game interaction.''
The renewed interest in live baccarat was first noticed in Asian markets where…
… this game continues to be one of the most popular options along with blackjack. This trend is slowly appearing in the European and Latin American markets as well. Operators such as 1XBET are seeing an increase in interest in…
… Spain and other places on the old continent. With that said, it is becoming more and more apparent that live casino services will be much more widespread in the near future.
Getting to Know VG:
The Israeli company known as Vivo Gaming has been creating and distributing custom-tailored online casino solutions for nearly 10 years.
Their live division went live shortly after, offering truly cutting edge experience to their partners and clients.
Ever since then, this company has been designing…
… running and producing online casino software that developed a decent following. Their B2B model has made them a very popular entity in the industry, netting them a number of high-value deals. This company is currently on the very edge of live online casino gaming, offering custom made solutions to clients worldwide.
Source: "1XBET launches 2 new baccarat tables by Vivo Gaming" https://www.vivogaming.com/1xbet-launches-2-new-baccarat-tables-by-vivo-gaming/. Vivo Gaming. July 7, 2019.
Comment: Vivo's live stuff is top notch. Their dealers are super nice too!
Author: Dusan Trifunovic