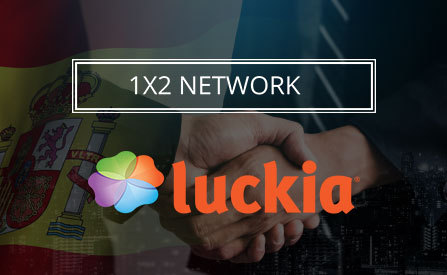 1X2 Network has signed a content deal with Luckia that will open this brand to Spanish markets for the very first time. 1X2's Iron Dog Studio will…
…soon offer the entirety of its content to the newly partnered Luckia, thus expanding this operator's portfolio with a batch of fresh content.
Entering the Spanish Markets for the First Time:
The iGaming software specialist located in the United Kingdom, has signed a content deal with Luckia, allowing its Iron Dog Studios subsidiary to…
...offer the entirety of their content to a whole new group of players. Slot game titles such as Rainbow Wilds, Pirate Kingdom Megaways, Faerie Nights and many others will soon go live across the operator's network.
However, these two companies won't stop there. The operator will also be taking on the entirety of virtual sports games that 1X2 offers on behalf of their strategic partner – Leap Gaming.
Said virtual sports games will allow players to bet almost instantly with no time limits on when they can bet. In other words, these games offer around the clock entertainment for…
…fans of sports betting who don't care too much for sports schedules.
A Predicted Partnership:
The deal with Luckia could have been anticipated. Namely. 1X2 recently certified all of its games for the Spanish market. It was only a matter of time before…
…this company found a viable operator in this European market.
Jaume Moragues, head of online at Luckia, said: "The online casino market in Spain continues to grow and at an impressive rate; to keep driving this we need to be offering our players the best possible games. 1X2 Network has made a name for itself in other regulated markets and we wanted to be able to offer our players the same blockbuster titles available in other countries. We are also thrilled to be able to offer our players instant racing titles from Leap Gaming which was made possible by 1X2 Network."
Kevin Reid, chief commercial officer at 1X2 Network, added: "We have long believed that Spain will become a significant online casino market and are delighted to have launched with our first partner. Luckia is one of the largest and most popular online gambling brands in the country and proves that operators in markets all over the world are keen to integrate our content from the different brands built on our platform including Iron Dog Studio, 1X2gaming and Leap Gaming."
About 1X2 Network:
The UK-based provider of iGaming content began as 1X2 Gaming, which is now the subsidiary of 1X2 Network. The original company specialized in…
…virtual football, which is what has brought it fame. It wasn't long before the 1X2 brand grew to include casino content such as slots and other games. At the moment, this company is promising to become one of the industry leaders in the near future.
Source: Miller, George. "1X2 Network partners with Luckia" https://europeangaming.eu/portal/press-releases/2019/11/26/59374/1x2-network-partners-with-luckia/. European Gaming. November 26, 2019.
Author: Dusan Trifunovic