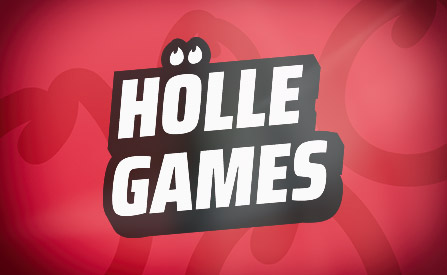 Hölle Games might sound like something of a strange name, but it definitely has some meaning behind it. Should you speak German, you'd know that Spielhölle is a place for playing casino games, with Hölle further meaning something great. In short, you're in for some great casino gaming with this company.
The company is active in two major areas of iGaming, that is producing online slots and running a remote gaming server of their own. The latter is probably not all that interesting for casino players, but it is perhaps one of the most important pieces of hardware and software for online casinos and game producers. The combination of these two has created a package that has proven quite popular.
About Hölle Games
The company was officially established in 2020. Despite its relatively young age, it has ample amount of experience and know-how thanks to staff and core team that worked with many of the big names of the industry. No doubt these connections also played a role in Hölle quickly partnering up with software platforms like iSoftBet, Relax Gaming, Pariplay and EveryMatrix, which in turn led presence in a vast variety of online casinos.
A licence from Malta Gaming Authority and a certificate from iTech Labs guarantees player safety and security.
The main priority for the company is simply increasing the number of games available. Each one of these takes quite some time to finish up, as Hölle Games is more interested in quality than quantity. Classic slot gaming is something that never goes out of fashion, and this seems to be a major product line for the company. That's not to say you couldn't find more modern games in the mix too. Despite being a relative newcomer, the company has managed to find a dedicated fanbase. What they will accomplish in the future is something to wait and see.
Hölle Games
Fruits, Bells, Bells 10, Fruits 20, and Fruits XL are probably not the most imaginative names around. Not so surprising when you remember this is a German casino gaming company. You can probably gather the type of games these are, and you'd be completely right if you're thinking classic. The look of the games is very much old-style, or retro or vintage if that's what you want to call it. However, the details do shine through after a few spins, and you can easily tell that the interface adheres to all the best practices of modern mobile gaming.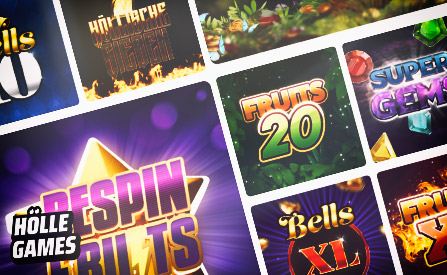 Not so surprisingly, the fruity symbols are joined by a five reel setup that uses paylines, in low numbers, to determine what sorts of wins players will be getting. Variance is usually set to high, so big wins are a possibility. On the other hand, you won't be running into many if any special features. Most of these games simply offer a double up option.
You can find a couple of games that take a step into a bit of a different realm, though not much else changes beyond the themes and symbols. The only added major aspect in titles like Holla die Waldfee that add bonus spins and jackpots into the equation. These games are certainly made for the crowd that likes simple and fast action, and if that is something you're after you should definitely try out the selection.
Hölle Games No Deposit Casino Bonus
Getting a no deposit bonus for Hölle Games might not be the easiest task. This casino software provider remains quite small scale, and its relatively unknown as well. They are starting to get some traction in German online casinos, having even come with a bonus round feature of their own to sidestep some of the tax limitations that have caused low RTPs.
You might not find slot tournaments aimed at Hölle Games, no bonus spin packages directed at these games, but luckily no deposit bonus cash is still a strong possibility. Thanks to wide availability across different online casinos, big and small alike, pretty much guarantees that you can find good bonus possibilities from our list of online casinos. Take a look, and start spinning the reels!