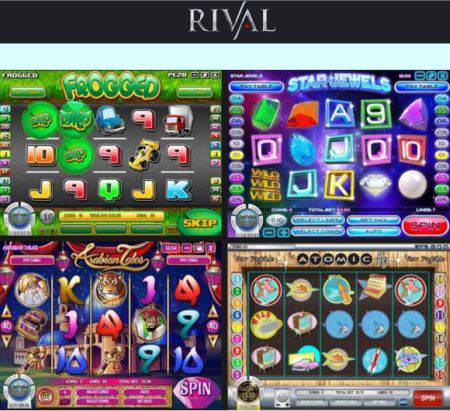 Rival Software History
After intense research and several years of dedicated research Rival officially launched their first online casino in 2006. The concept of Rival's focus is straightforward and simple; develop games that are going to appeal to players, provide support and services as needed and strong marketing skills to promote products. High standards in today's gaming are paramount with fair play, committed customer service and operator ethical accountability. There are over 40 successful brands worldwide powered by Rival software. Taking casino operators to the next level, Rival takes great strides in tailored programs on an individual basis in developing uniqueness for each brand. Prioritizing those clients who wish to differentiate themselves from other casinos by offering exclusively developed games, improved comp programs, loyalty and bonuses programs to set a brand apart from the rest are diligently attended to by a professional team of experts. Games are licensed by numerous operators on a global level and available via Rival's GTS EdGE.
About Rival Software Products
Steadfast and a highly sufficient team have casino operators up and running within a month's time with a tremendous platform of prestigious products. There are over 100 casino games available in the portfolio. The catalog of games include unique products exclusive to approximately a dozen operators worldwide.
Rival's signature development is i-Slots that are exclusively developed for this software. Unmatched in the online casino industry i-Slots outwits the competition in a concept of progressive storytelling that picks up where players left off. Introductions to themed games enhance the gaming experience with compelling characters and in keynote masterpiece creations. Symbols come to life through 3D animation with infectious melodies and sound effects that are riveting. The importance of winning at large is possible with climbing cash prize pools in Progressive Jackpot Slots.
The catalog of products included divisions for Table Games, Video Poker, 3 Reel Slots, 5 Reel Slots and Specialty Games like Scratch Cards, Sudoku, Keno and Instant Bingo.
Services/Security
The casino platform is available in Adobe Flash and downloadable installation. Customer support call centers allow operators full capabilities for around the clock customer care via live chat, email and phone. Transaction monitoring is available to ensure fair payments to customers and affiliates. Fraud prevention solutions detect suspicious accounts and are kept under control without having to wait for a customer to make a withdrawal before detecting it and can stop it in its tracks. Handling literally billions of transactions in over a decade the team of specialists has tools and resources to run a smooth and honorable operation.